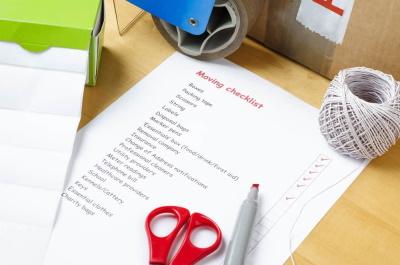 Moving home checklist
You have finally found the right place to move. You are sorted with your mortgage, and all you are left with is the actual moving. However, there are many things that you need to consider before moving, and if you aren't sure how to get going about it, go through this moving home checklist especially created by Movers Direct. We want you to move your home easily and seamlessly. Read this checklist, and prepare accordingly.
Step 1: The Date You Will Move
Before you even start calling a mover's company, you need to think of a date when you will like to move. This is because the house you will move to will have to be prepared, and simultaneously, the house that you will leave has to prepare for the new family or tenant.
If the new house you are moving into is a rented place, you can start moving a few days earlier to reduce the load. Once you are sure about the date, call your preferred mover's company and ask them if their service is available on that particular date.
Mover's companies remain occupied almost daily. Hence it would be better if you remain flexible with your moving date. Also, talk to the company in detail about the kind of mover's service they provide. Will they provide packing service as well because packing consumes a lot of time.
Step 2: Tell your landlord
If it is your own house, you will only have to vacant your home and pass on the new homeowner's key. Else, you need to sell it to the real estate directly, and you can move out of your house on the date.
However, if you live in a rented place, you will have to let your landlord know about it. Be sure about your moving date because your landlord will want new people to move in as fast as possible. Try to move out of your house when your tenancy ends. That way, you will not have to pay the mortgage and rent at the same time.
Step 3: Get in touch with your utility suppliers
There are a few things that you will be bringing along with you, even to your new house. Some of them could be your broadband and phone service. Once you plan to move out, let the utility suppliers that you are moving out.
Ensure to alert them several weeks back because getting a new connection in your new home might take a few weeks. Take a final meter reading of the property that you are leaving and share it with your supplier.
Step 4: Contact Removal company
Once you are sure about your moving date, you have told your landlord and utility suppliers that you are moving, it is time to contact a removal company, otherwise known as mover's company.
The good thing about these companies is that they can work as per your budget. Keep in mind the type of property you are moving to. If it is a small property, you can rent a van and call a few friends to help you pack and load the items.
If you need packing and moving service both, get in touch with the removal company. You can contact Movers Direct if you have any home removal requirements. Movers Direct follows an established code of practice, and we are always there for our customers.
Tell us the type of moving service you need. Is it only packing, or you need packing and moving both? The price for both of them will vary from service to service.
Step 5: Take a look at your house one last time
Before all your belongings get packed and loaded, it is time for you to go through the house you are leaving one last time. Check all the wardrobes, go to the bathroom, look at your kitchen, and so on. This way, you will be sure that you do not forget anything.
If you want to leave a few things behind, it is better to leave them off at a local charity shop because those items may help someone.
Contact Movers Direct
These are what you need to take care of when you plan to move to a new house. Try to label all the boxes so that you know exactly where the items are when you unpack the items. Get in touch with Movers Direct if you want help with moving and packing.